Books Published by Our Faculty
Sites of Governance: Multilevel Governance and Policy Making in Canada's Big Cities
Co-Edited by Drs. Bob Young and Martin Horak
Drs. Bob Young and Martin Horak have coedited a new book entitled: Sites of Governance: Multilevel Governance and Policy Making in Canada's Big Cities. (McGill-Queen's University Press, June 2012). Congratulations Bob and Martin! See More.
---
Foundations of Governance: Municipal Government in Canada's Provinces
Edited by Andrew Sancton and Robert Young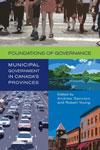 Municipalities are responsible for many essential services and have become vital agents for implementing provincial policies, including those dealing with the environment, emergency planning, economic development, and land use. In Foundations of Governance, experts from each of Canada's provinces come together to assess the extent to which municipal governments have the capacity to act autonomously, purposefully, and collaboratively in the intergovernmental arena. Each chapter follows a common template in order to facilitate comparison and covers essential features such as institutional structures, municipal functions, demography, and municipal finances. Canada's municipalities function in diverse ways but have similar problems and, in this way, are illustrative of the importance of local democracy. Foundations of Governance shows that municipal governments require the legitimacy granted by a vibrant democracy in order to successfully negotiate and implement important collective choices about the futures of communities.
---
The Limits of Boundaries: Why City-regions Cannot be Self-governing
Written by Andrew Sancton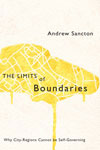 Andrew Sancton combines his own broad knowledge of global changes with an outline and comparison of the viewpoints of prominent social scientists to argue that city regions in western liberal democracies will not and cannot be self-governing. Self-government requires a territory delineated by official boundaries, but the multiple boundaries of city-regions, unlike the clear and undisputed boundaries of provinces and states, continue to move outward due to the constant growth and expansion of urban populations and services.
The Limits of Boundaries clearly shows that difficulties in reaching agreements on boundaries fatally limit the capacity of city-regions to be self-governing.
---
Governing the Post-Communist City: Institutions and Democratic Development in Prague
Written by Martin Horak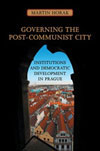 When faced with the rapid and disorienting transition from communism to democracy, many eastern European leaders sought simple, immediately rewarding answers to complex policy problems. Through an analysis of urban politics in Prague between 1990 and 2000, Governing the Post-Communist City shows how this phenomenon affected post-communist democratic development at the local level. Focusing on the issues of road infrastructure and downtown development, Martin Horak demonstrates that political leaders' reliance on short-term policy solutions in the early 1990s enabled pre-democratic institutional forms to survive the early post-communist period, with negative consequences for the quality of local democracy in the longer term.
---
Merger Mania
Written by Andrew Sancton

Merger Mania began as a consultant's report for the City of Westmount, Quebec. At a time when the Mayor of Montreal was urging that the Government of Quebec sponsor legislation merging all the municipalities on the Island of Montreal, I was asked to write a comprehensive summary of past debates about municipal amalgamation throughout the democratic world, with an emphasis on Canada. The report was initially published privately and then by McGill-Queen's University Press.
---