Books Published by Our Faculty
Local Government in Practice: Cases in Governance, Planning and Policy
Written by Zachary Spicer, Joe Lyons, and Kate Graham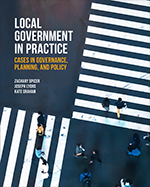 Professors Zachary Spicer, Joseph Lyons, and Kate Graham are pleased to announce the publication of their new book, Local Government in Practice: Cases in Governance, Planning and Policy (Emond Publishing). This book is intended as a teaching resource to help equip students to effectively deal with contemporary challenges within local government. Through a series of evidence-based simulated cases, readers examine situations to better grasp the intricacies of this dynamic and rapidly changing environment.

A diverse range of themes, including council–staff relations, finance, planning and economic development, intergovernmental relations, environmental and health policy, and municipal regulation, provides students with comprehensive coverage of local government in practice.
---
Shaping the Metropolis: Institutions and Urbanization in the United States and Canada
Written by Zack Taylor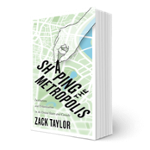 Professor Taylor is pleased to announce the publication of his new book, Shaping the Metropolis: Institutions and Urbanization in the United States and Canada (McGill-Queen's University Press). In the book, he compares the historical development of American and Canadian urban governance, both at the national level and through specific metropolitan case studies. Examining Minneapolis-St Paul and Portland, Oregon, in the United States, and Toronto and Vancouver in Canada, Taylor shows how differences in the structure of governing institutions in American states and Canadian provinces cumulatively produced different forms of urban governance. Arguing that since the nineteenth century American state governments have responded less effectively to rapid urban growth than Canadian provinces, he shows that the concentration of authority in Canadian provincial governments enabled the rapid adoption of coherent urban policies after the Second World War, while dispersed authority in American state governments fostered indecision and catered to parochial interests.

---
A Quiet Evolution
Written by Chris Alcantara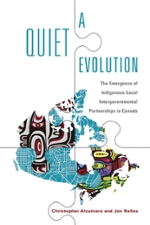 Much of the coverage surrounding the relationship between Indigenous communities and the Crown in Canada has focused on the federal, provincial, and territorial governments. Yet it is at the local level where some of the most important and significant partnerships are being made between Indigenous and non-Indigenous peoples.

In A Quiet Evolution, Christopher Alcantara and Jen Nelles look closely at hundreds of agreements from across Canada and at four case studies drawn from Ontario, Quebec, and Yukon Territory to explore relationships between Indigenous and local governments. By analyzing the various ways in which they work together, the authors provide an original, transferable framework for studying any type of intergovernmental partnership at the local level. Timely and accessible, A Quiet Evolution is a call to politicians, policymakers and citizens alike to encourage Indigenous and local governments to work towards mutually beneficial partnerships.

---
Sites of Governance: Multilevel Governance and Policy Making in Canada's Big Cities

Co-Edited by Bob Young and Martin Horak
Drs. Bob Young and Martin Horak have coedited a new book entitled: Sites of Governance:
Multilevel Governance and Policy Making in Canada's Big Cities. (McGill-Queen's University Press, June 2012). Congratulations Bob and Martin! See More.
---
Foundations of Governance: Municipal Government in Canada's Provinces
Edited by Andrew Sancton and Robert Young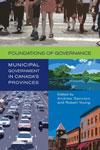 Municipalities are responsible for many essential services and have become vital agents for implementing provincial policies, including those dealing with the environment, emergency planning, economic development, and land use. In Foundations of Governance, experts from each of Canada's provinces come together to assess the extent to which municipal governments have the capacity to act autonomously, purposefully, and collaboratively in the intergovernmental arena. Each chapter follows a common template in order to facilitate comparison and covers essential features such as institutional structures, municipal functions, demography, and municipal finances. Canada's municipalities function in diverse ways but have similar problems and, in this way, are illustrative of the importance of local democracy. Foundations of Governance shows that municipal governments require the legitimacy granted by a vibrant democracy in order to successfully negotiate and implement important collective choices about the futures of communities.
---
The Limits of Boundaries: Why City-regions Cannot be Self-governing
Written by Andrew Sancton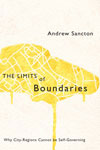 Andrew Sancton combines his own broad knowledge of global changes with an outline and comparison of the viewpoints of prominent social scientists to argue that city regions in western liberal democracies will not and cannot be self-governing. Self-government requires a territory delineated by official boundaries, but the multiple boundaries of city-regions, unlike the clear and undisputed boundaries of provinces and states, continue to move outward due to the constant growth and expansion of urban populations and services.
The Limits of Boundaries clearly shows that difficulties in reaching agreements on boundaries fatally limit the capacity of city-regions to be self-governing.
---
Governing the Post-Communist City: Institutions and Democratic Development in Prague
Written by Martin Horak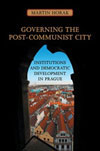 When faced with the rapid and disorienting transition from communism to democracy, many eastern European leaders sought simple, immediately rewarding answers to complex policy problems. Through an analysis of urban politics in Prague between 1990 and 2000, Governing the Post-Communist City shows how this phenomenon affected post-communist democratic development at the local level. Focusing on the issues of road infrastructure and downtown development, Martin Horak demonstrates that political leaders' reliance on short-term policy solutions in the early 1990s enabled pre-democratic institutional forms to survive the early post-communist period, with negative consequences for the quality of local democracy in the longer term.


---
Merger Mania
Written by Andrew Sancton

Merger Mania began as a consultant's report for the City of Westmount, Quebec. At a time when the Mayor of Montreal was urging that the Government of Quebec sponsor legislation merging all the municipalities on the Island of Montreal, I was asked to write a comprehensive summary of past debates about municipal amalgamation throughout the democratic world, with an emphasis on Canada. The report was initially published privately and then by McGill-Queen's University Press.


---